What you will learn
Expand your ability to see and hear what others are truly thinking and feeling.
Develop a comprehensive understanding of the six channels of communication (SCANS™) and how they relate to emotion and deception.
Critically evaluate what a person is attempting to say to develop a fuller understanding.
Use effective, non-oppressive questioning strategies within high-stake conversations and interviews.
Be analysing video and audio of real-life scenarios and criminal cases, practising with one-to-one activities and simulation, and taking part in high-stake group exercises designed to stretch your new skills and increase your abilities.
An advanced On-demand Online Workshop on Body Language, High-Stake Communication, and Behaviour Analysis
Enhance your communication abilities with the Certificate in Behaviour Analysis, a comprehensive passive online training course designed to provide you with the knowledge and techniques needed to read and interpret verbal and non-verbal behaviour, assess credibility, and detect deception. Developed by the Emotional Intelligence Academy, this flexible e-learning program allows you to master human behaviour analysis at your own pace.
The Certificate in Behaviour Analysis will teach you the knowledge, skills, and techniques to read and understand verbal and non-verbal behaviour and develop your ability to assess a person's credibility and deception.
The ability to analyse human behaviour and see the emotions of others with clarity is irreplaceable in developing effective communication. The potential is limitless: childcare, education, business, professional sports, sales, management, and medicine can benefit through a deeper understanding of emotions.
Many resources claim to teach you how to understand body language and non-verbal communication, and it can be overwhelming to decipher which ones are reliable and effective… The solution is simple, trust the science.
This course utilises EIA's pioneering Six Channel Analysis System (SCAnS) – a scientifically supported behaviour analysis system designed to capture real-time behavioural data across all six communication channels:
Voice
Psychophysiology
Facial Expressions
Body Language
Verbal Style
Verbal Content
When trained in SCAnS, you will distinguish changes among the six channels (made up of twenty-seven criteria linked to the six channels). When used within high-stake contexts, these changes can point to inconsistencies within 1) the speaker's account (meaning the story they are trying to tell), 2) their baseline, and 3) the context.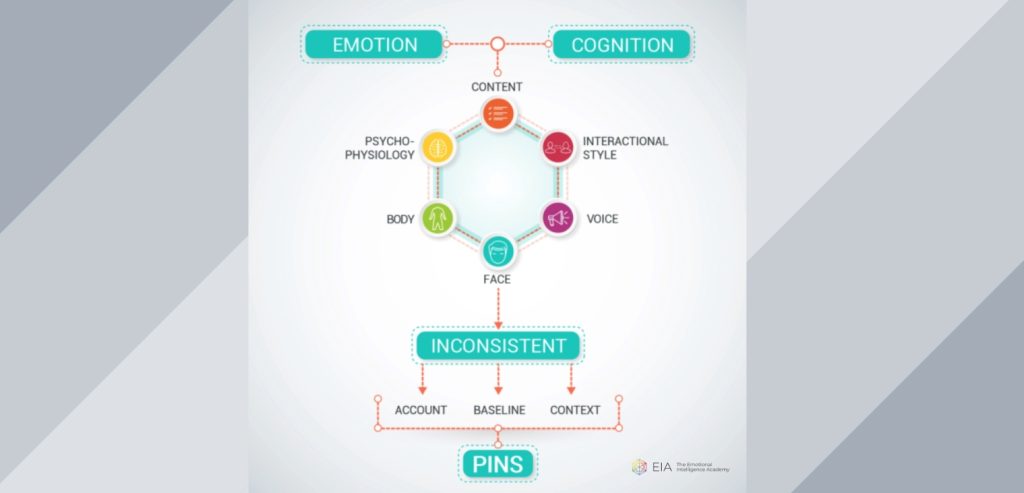 Buy Now
See learning portal for pricing options
Pay in Full