In the ever-evolving landscape of security challenges, the application of behavioural analysis has emerged as a crucial tool for detecting potential threats. By meticulously assessing behaviours and activities, security personnel can identify individuals with malicious intent, mitigating potential risks.
Integrating behavioural detection into a comprehensive security framework is paramount for enhancing overall security measures. This integration requires specialized training, consistent application, and an understanding of the balance between safety and personal rights.
The Emotional Intelligence Academy (EIA Group) has developed the innovative OTER© and iALERT© systems to train Behavioral Detection Officers (BDOs) in identifying and investigating Persons of Interest (PoI) with potentially malicious intent. This system maximizes safety, reduces false positives, and improves the customer experience while upholding human rights.
The OTER© method comprises four stages, focusing on primary detection behaviour indicators using the iALERT© acronym as a foundation.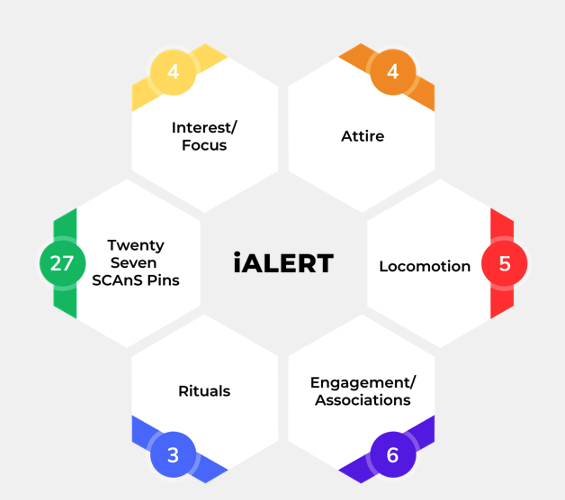 BDOs receive training in cognitive and emotion-based elicitation and interview techniques to effectively engage PoIs. Additionally, sensitivity algorithms play a crucial role in ensuring BDOs do not act on singular or limited behavioural cues, thus reducing false positives and their impact on the general public.
For optimal outcomes, it is essential to incorporate this system within a comprehensive security framework. A well-designed environment, evidence-based, audience-specific training, and careful consideration of suitability, scalability, and resource allocation are crucial. A holistic approach, utilizing available resources such as staff, the public, security officers, and surveillance technology, is more effective than over-reliance on specialized behavioural detection capabilities. Specialist behavioural detection training includes two primary aspects: Primary Detection and Active Engagement. Both techniques require mastery of typical behavioural nuances within a given environment.
It is vital to acknowledge that behavioural detection is not a standalone solution. Integration into a systematic approach is necessary, ensuring investment and continuity, consistent skill application, streamlined suspicion resolution, and vigilant monitoring and evaluation. This integration enables behavioural detection to serve as a vital component of a comprehensive security strategy, resulting in a safer and more secure environment.
Download the OTER / iALERT White Paper